The company is owned and managed by the following two
directors who lead a small multidisciplinary team.
Martin Harradine
Director
Member of the Royal Town Planning Institute
MSc City Design & Social Science
MA Town & Country Planning
BA Geography
Martin is Director responsible for planning and urban design projects at AZ Urban Studio and has played a leading role in a range of projects from small innovative developments to city-wide masterplanning strategies over the last eight years.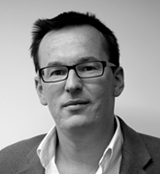 Chris Lloyd
Director
Member of the Royal Institution of Chartered Surveyors
MSc City Design and Social Science
BSc (Hons) Land Management
Chris is responsible for development and planning consultancy within AZ Urban Studio. This involves providing town planning, project management and feasibility services into masterplanning, development projects and planning applications.
Roger Zogolovitch
Consultant (ex director and founder)
AADipl, RIBA, FRSA
Roger is one of the original founders of AZ Urban Studio, starting the firm with Will Alsop in the early 1990s.
Although Roger has now retired as a director of the firm, he remains a consultant able to assist clients with Design Management and Review.  An architect by training, he has considerable expertise in design leadership and project promotion.